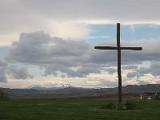 God's Will for Your Life
"Our Father which art in Heaven, hollowed be thy name. Thy kingdom come thy will be done on earth as it is in Heaven…"   Matthew 6: 9-13
Have you ever wondered what God's will for your life is? His will is simply for us to live and maintain His kingdom here on earth. God's kingdom is distinct and a different way of life. Jesus taught us how to pray for the kingdom to come on earth, how He would work in us, and showed us how to live and work inside the kingdom. When Christ is in you, it is a perfect fit! He is in you, you are in Him, and you are both in the kingdom. It is Christ that works in both of you to accomplish His good pleasure.
I have found that I can pray the Lord's Prayer, "Thy will be done", and then resist the work of Christ in me. I had to learn the difference between my will and His. My will consists of doing whatever I want to do, as much as I want to do it. If I live according to my will, then I will eat all the food I want, spend all the money I want, and then whine because I am overweight and broke. When I submit and abide by His will, then I have boundaries and parameters. I am doing what He wants me to do when I surrender my life to Christ and ask Him to be in charge.
Your life will not be complicated if you surrender to God's plan and will for your life. It is Christ working inside of you, changing your will to do the Fathers will. Take time to read His Word and you will soon see who you are. You are His child and an heir. You will live as an heir, a joint heir with Christ. When you get a glimpse that you are here on planet earth as an heir to establish and maintain your Father's kingdom, it will change your agenda for the day.
Pray this simple prayer, "Thy will be done on earth as it is in heaven."