Does Anyone Really Care?
"And let us consider and give attentive, continuous care to watching over one another."  Hebrews 10:24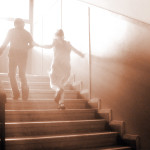 Do you ever wonder if anyone really cares?  If  you have accepted Christ as your savior, not only do you have a new life and purpose, but you also have a new family.  In this family, the Bible teaches us that we should care for each other and encourage one another.  The Amplified bible says to give attentive continuous care to watching over one another.
With the online social movement many people have become somewhat reclusive from face-to-face contact.  It seems that the new lifestyle and societal trend is to connect with relationships virtually – without physical interactions.  Unfortunately, in too many cases it has become to easy of an escape from recognizing and responding to the needs of others.  It's difficult to wash feet and serve needs from a virtual connection.
Social sites certainly have a place in our society and can help us find new ways of loving, encouraging, and sharing. We should carefully evaluate how we are building each other up in the Faith.  God has called us to Love unconditionally and to care for each other by serving in the nurturing of Faith.   Let us diligently and attentively consider each other's trials, difficulties, and weaknesses; feel for each other, and excite each other to an increase of love to God and man; and as proof of it, to be fruitful in good works.
We are to be concerned about other Christians because they are our brothers and sisters. When you are in a family and care about others, you watch out for them and it sets you free from a lonely, secluded, and self centered life. Verse 24 says to give continuous (nonstop, constant) care to watching out for one another.
In your natural family, what was your response when you were asked by your dad or mom to look after your younger brother or sister? Whatever thoughts you have today that are hurtful and childish, just simply put them away (1 Corinthians 13:11) because these thoughts  and feelings are blocks that are keeping you from being obedient to the Word of God.
I remember a song we sang at youth camp around the camp fire many years ago. The words to that song had such an impact on my life. The song went something like this:  Do you really care -do you know how to share with people everywhere – do you really care?
What is holding you back? Identify your feelings and ask the Lord to fill you will His Love anew that you may be able to give it to others.