He Will Be With You!
"Yea, though I walk through the valley of the shadow of death, I will fear no evil; for thou art with me…" (Psalm 23:4).

"When thou passest through the waters, I will be with thee; and through the rivers, they shall not overflow thee: when thou walkest through the fire, thou shalt not be burned; neither shall the flame kindle upon thee" (Isaiah 43:2).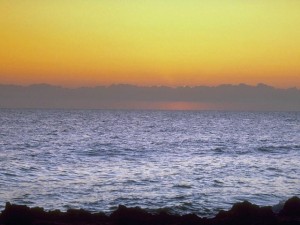 The Lord has promised us that He will be with us even when we walk through the shadow of death.  He has already experienced every trial and every pain, even the pain of death.  He has gone before us and now lives to tell the story.  He can say with all authority, "Fear not, for I am with you" (Isaiah 41:10).
There is nothing to fear, because you are never alone. Your Father in heaven knows what you are facing and He has promised that no matter what you go through He will be with you. The light of His presence can be experienced even in the darkest night. A ray of sunshine always follows dark clouds, and the light of a new day always follows the night.
However, you must pass through the dark night to get to the next sunny day and the same is true of death. You must pass through death to get to resurrection life. Jesus passed through death and made life possible for all who will trust Him. When we put our trust in the Lord even death is but a shadow, something you simply pass through.
Put your full trust in the Lord, He will never leave you or forsake you.