Enjoying His Presence
"The king shall joy in thy strength, O Lord; and in thy salvation how greatly shall he rejoice!" (Psalms 21:1)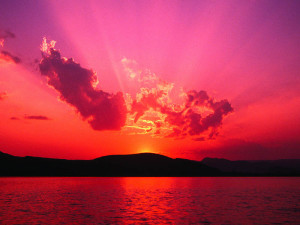 We can find a deep, soothing joy that only comes from spending time with our Heavenly Father and basking in His presence. There are so many people who sit by the fireplace alone! They may sit by another chair, once filled, trying to restrain the tears that flow. They may sit alone, but there is someone who is unseen and just within their reach. Yet, for some reason, they don't fully realize His presence. Realizing God's presence can be limited by mood, feelings, physical condition, or even the weather. The rain or thick fog outside, the lack of sleep or intense pain, seem to block their ability to realize the fullness of His presence.
"Thou wilt show me the path of life; in thy presence is fullness of joy." (Psalms 16:11)
There is more than simply realizing His presence; the greater blessing is to enjoy His presence. He is close to you, and His presence is real. He is always present, a warmhearted friend, and the all-powerful Lord. He is there to listen to what is on your heart and comfort you. This is a joyful truth for weeping hearts everywhere, no matter the reason for the tears. You are not alone, He is always there.
Spend extra time today just enjoying the presence of the Lord.