Discouraged? Perhaps Look at Your Expectations
"I had fainted, unless I had believed to see the goodness of the LORD in the land of the living."   Psalm 27:13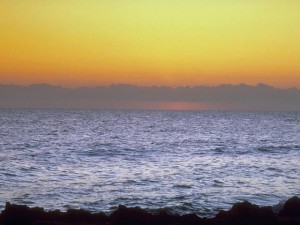 When we delight in the Lord and set our hearts on the goodness of the Lord we can carry His goodness and His loving presence into every situation.  David knew he could not look at the circumstances.  He had to keep his eyes on the goodness of the Lord.   He said, "I would have fainted if I had not expected to see the goodness of the Lord in the land of the living."  He set his heart and his expectations on seeing the salvation of the Lord in every situation, no matter what giant he faced.  David set his expectations high, higher than the earthly realm and he overcame his enemies.  If you are feeling discouraged and defeated, maybe you need to change your expectations.
Look at Peter, he also had to keep his eyes and expectations set high.  He kept his eyes on the Lord as he miraculously walked on the water towards Jesus.  It was a great day for Peter in the middle of that miraculous situation.  Peter placed his eyes on Jesus and stepped out on the water.  It must have been an amazing moment for Peter as he exercised his Faith and stepped out of the boat.  Of course, as long as he had his eyes on Jesus he was overcoming, but… when he looked down and then he began sink.
Obviously, it is vital that we keep our eyes on Jesus.  Don't look down; keep your eyes upon the Lord and your expectations set high on miraculous places He wants you to walk.  Just like Peter and David, we will see God work amazing miracles in our lives.
My soul, wait silently for God alone, for my expectation is from Him.  Psalm 62:5