It is Blessed To Be A Blessing
For You make him to be blessed and a blessing forever; You make him exceedingly glad with the joy of Your presence. Psalm 21:6  Amp.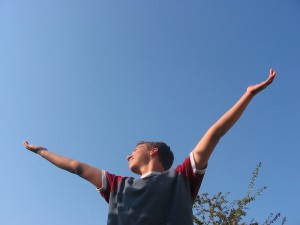 It is God that makes us to be blessed!  David said in Psalm 21:6, that God actually makes you to be blessed.  He makes or rather He prepares you to receive His blessings.  Think about it, right now He is preparing you for His blessings.
You are like a storehouse that He must prepare to pour his blessings into.  If you are a little four room house, He may require you expand to receive a blessing.  You can't have the "us four and no more" mentality and expect God to bless you beyond where you presently are.  It could be that where you are right now in your thinking is not large enough to hold all the blessings God has planned for you.
Think of all the men of old who were blessed by God such as: David, Joseph, and Abraham.  They had to expand.  Each of these great men was blessed by God, but each one was blessed in a different way.  They had to obey God in order to be prepared for the blessings. Their storehouse had to be prepared so they would properly manage blessings when they were poured out.
We are always blessed by God so we can keep the blessings flowing and be a blessing to God's people. If you are blessed by God, as Joseph was blessed, it means you must learn how to govern the blessing and release it to God's people at the appointed time.  Blessings from God indicate He has entrusted you with something, and all He asks of you is to be a good steward and properly maintain the blessing.
When God abundantly blesses someone, they are a storehouse on earth where God places His blessings.  He doesn't bless us just so we will pile up the blessings and say, "look at me."  He blesses us so He can use us to pour out blessings to others.  In Psalm 21:6, as we bless others the flow of God's blessing continue to flow to us and we are a blessing forever.  "Give and it shall be given to you."
Give, and it will be given to you. A good measure, pressed down, shaken together and running over, will be poured into your lap. For with the measure you use, it will be measured to you." Luke 6:38 (New International Version)
Be a blessing to others with the blessings God has entrusted you with.