Rise Up!
"Fear Not, for I am with you; Be not dismayed, for I am your God.  I will strengthen you, Yes, I will help you, I will uphold you with My righteous right hand." 
Isaiah 41:10  NKJV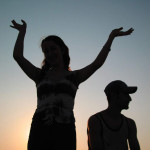 Many people have been hurt by rejection.  If you have ever experienced rejection, you can probably relate to that downward spiraling effect that rejection gives you.  It has a progressively negative effect; at first it affects your opinion of yourself, your emotional well-being, and if not dealt with rejection will continue to affect interpersonal relationships through-out your life.
Rejection is so painful and devastating that we can all agree it is one of Satan's most successful tactics that he uses to separate and destroy homes, families, and relationships.  Once you are healed from rejection, you can breathe freely without the fear of rejection taking you down into that black hole of despair.
Rise up!  Receive your healing through the Truth of God's unchangeable, unexplainable, and unconditional love and acceptance.