A Continuous Flow
… If any man is thirsty, let him come to Me and drink. He who believes in me out of his inner most being shall flow [continuously] springs and rivers of living water. John 7:37-38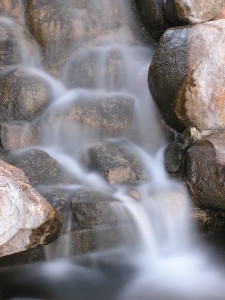 I began to ponder this morning about the continuous flow of Living Water.  As I read John 7:37-38 I thought; living water is a continuous flow of love and forgiveness.  That is it; that is what I experience daily as I spend time with the Lord.
His love and forgiveness is a "continuous flow" that never stops.  But, is that what others experience when they spend time with me?  I heard the Lord as He spoke in that quiet gentile voice to my heart,  "Can you carry my love and forgiveness to others?  Will you let it flow continuously from you as a river so that people are refreshed by My presence within you."  My response was: "Yes, Lord!"
I set back and began to fondly think of those people I love; the ones I wanted to share this continuous flow of love and forgiveness.  But, then I thought about people who I no longer have fellowship with.  I began to wonder did the continuous flow apply to these relationships as well.  I heard the Lord gentle say, "Aren't you glad that even when you were not fellowshipping with Me that My flow of love and forgiveness was still continuous towards you?  Then He said, "What you have freely received freely give them as well."  I realized very quickly that I needed more of the love of the Lord, because at this point I only have a small creek that runs as far as my close friends and family.
Lord, I want a river, a big river of Living Water; a continuous flow of love and forgiveness that will flow everywhere You send me.