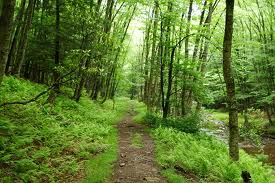 Walk in the Way God has Commanded
"You shall walk in all the ways which the Lord your God has commanded you, that you may live, and that it may go well with you and that you may live long in the land which you shall possess."  Deut. 5:33
You Shall Walk
The Lord has a path on which we are to walk.  We are to walk in His ways regardless of our circumstances.  God promised us in Deut. 5:33 that if we walk in His ways, we will live a long life and things to work together for our good.  Even when our circumstances do not appear to be going as planned, if we walk in the ways of the Lord and trust what He has promised in His word life will go well. This does not mean there will not be any problems. As we walk down the path of life, there will be bumps in the road.  Things will happen that we did not plan on, but nothing should change the way we walk.  We must still walk in His ways and not veer to the right or to the left.
When our son was in a coma, I could feel the pull moment by moment to give in to fear and to give up and accept the report of the doctors.  The doctors said my son would be in a vegetative state if he came out of the coma. But I resisted the pull and I didn't give in.  I trusted in the Lord.  God said He would show us the path of life for our son. He said our son would live and not die.  As I read God's Word, He encouraged me to not give up.
"The eyes of the blind will be opened, and the ears of the deaf shall be unstopped. Then shall the lame man leap like a hart, and the tongue of the dumb shall sing for joy…" Isaiah 35:5-6
So, I walked in the ways of the Lord, believing His Word. The path of life for our son had been prepared ahead of time and now we had to embrace it by faith. Faith is the assurance of things we hope for even though we may not see them yet. We saw him lying in a hospital bed unable to move, talk or communicate in any way.  But we did not give in to what we saw.  We had to believe what we did not see.  We believed that he would walk and talk again……and praise God he is walking, talking and serving the Lord today.
Whatever you are going through do not give up, give in, or stop walking and trusting in the ways of the Lord.  His ways are a high-way above the circumstances. The high-way is the way of faith, believing what God says and not giving in to fear. Don't let your circumstances dictate your thoughts and convince you that God is not faithful. He is faithful.  He will work all things together for good for those who trust in Him. Trust Him and ask Him to show you the path of life.
You will show me the path of life; In Your presence is fullness of joy, at your right hand are pleasuresforevermore.  Psalm 16:11