Joy Comes in the Morning
"Weeping may last for the night, but joy comes in the morning." Psalm 30:5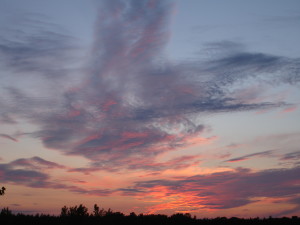 In Psalm 6:6-8 the psalmist says, "I am weary with my groaning." Some people weep outwardly, but most weep silently, choosing to walk through dark valleys all alone. Silent weeping will cause a night of sorrow to turn into months or even years of sadness, like a dark, sleepless night that you think will never end.  But just as the morning sun comes up to announce that the night is over, and a new day has begun.  When the first feeling of joy returns to your soul, you know the night of sorrow has come to an end.  Joy comes every morning; be careful not to miss it.
A major part of healing is grieving the losses. When we have experienced losses, they must be properly grieved in order to be released.  This is why we don't have peace; we are trying to cope with buried pain from the losses in our life.
For years of my life, instead of releasing a person, or relationships that ended, I was holding on to the sadness trying to figure out a way to cope with the painful emptiness.  I had so much pain and I was running hard, trying to keep it from catching up with me.
In Jeremiah 6:14, the prophet gives us understanding of why many people are inwardly weeping.  They have been hurt by the actions of others and have not received complete healing.  They are saying "peace, peace" when there is no peace.  Look at every area of your life where you are not experiencing peace.  The amount of peace in your life is directly related to the amount of healing you have received.  The painful events like separation and divorce create many losses that must be grieved.
Ask the Lord to walk with you through the pain and give you the ability to release all you have lost.