Drink From the Fountain That Will Never Run Dry
"Oh God, thou art my God; early will I seek thee: my flesh longeth for thee in a dry and thirsty land…."  Psalm 63:1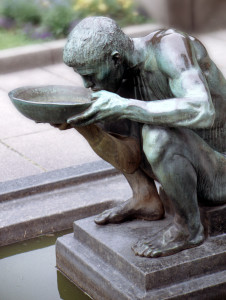 There is a deep well within us that must be filled up daily.  When this well has not been filled, you will find yourself dry and thirsty.
Jesus said, "If any man thirst let him come to me and drink." (John 7:37) Jesus is the fountain where we go to drink; He is a fountain that will never run dry.  When we spend time with Him praying and reading His Word, we are drinking from the "living water."  The Word brings life and refreshing to our spirit just as a drink of natural water refreshes us when we are dry and thirsty.
Are you stressed, tired, and burned out from the pressures of life?
If so, I would like to encourage you to get up early in the morning and spend some extra time drinking from the Word of God.  Drink until you are filled up with a renewed strength.  As you spend time in the Word, you will also experience a renewed hope that everything is going to be all right.