He Drew Me Out of Many Waters
"He sent from above, he took me, he drew me out of many waters."  Psalm 18:16

"Send thine hand from above; rid me, and delivered me out of great waters, from the hand of strange children."  Psalm 144:7

"Save me, O God; for the waters are come in unto my soul. I sink in deep mire, where there is no standing: I am come into deep waters, where the floods overflow me. I am weary of my crying: my throat is dried: mine eyes fail while I wait for my God."   Psalms 69:1-3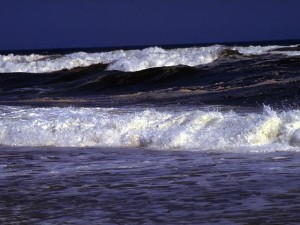 In these passages the Psalmist David is calling on the Lord to deliver him out of deep water.  In Psalm 18:16-17 the deep waters are referring to someone who hated him and have spoken words against him.
When I think of great waters I think of an ocean with huge waves crashing in one after the other.  When you have received too many critical words they can have this same effect.
If you are engulfed in these great waters you may feel like you are sinking.  You become overwhelmed like being in an ocean with one wave after the other hitting you and pulling you under.  If you take these critical words into your soul, it is like taking water into your lungs and after a period of time you can drown.
The Lord is reaching His hand down from above to lift you up.  His love is a life raft that He is throwing out to you, so reach out and let Him pull you up.  He will reach down and lift you up in many different ways.  It may be through a loving friend's call or an act of kindness. Just when you are so overwhelmed the call will come in and you will be lifted up out of those critical words where you have been drowning.   Once you have been lifted up and encouraged in the love and kindness, don't go back out into dangerous waters without a boat to hold you up.
Find security in knowing who you are in Christ so that the words of criticism cannot touch you.  Let the words that God says about you soak into your spirit. Then, you will be able to float on the top of the water, not allowing critical words to come into your soul.  Don't let the words of men define who you are. Know who God says you are.
God loves you and will never leave you or forsake you. He is for you and not against you (Psalm 56:9). Spend more time listening to what God says about you and re-arrange your schedule so you are spending plenty of time with family or friends who also speak words of encouragement.
The Path: Find ways to encourage others daily and you will be encouraged.